Discover more from chasing answers
Weekly newsletter covering topics ranging from investing to climate change to random thoughts.
chasing answers newsletter #44
Daylight "savings" time, Plasticosis, Tech and ocean cleanup, Why didn't they listen
"Only the government would believe that you could cut a foot off the top of a blanket, sew it to the bottom, and have a longer blanket." - Anonymous
---
---
Happy Sunday!
If you live somewhere that observes Daylight Savings Time, I hope you didn't forget to adjust your clocks (if you still have clocks that don't adjust themselves.)
Personally, I'm over DST. Can't we just get rid of it? I had to wait until 8:00 AM this morning to see the sunrise. And later this summer, I will have to force myself to sleep at 9:30 PM while the sun still shines.
The only thing that makes less sense than having DST half the year is this ridiculous argument that it should be permanent. 
Who started this shit? These people realize they aren't creating more daylight, right? They're just moving it around to where they want it.
And you shouldn't be able to move time around just because you don't like where it falls anyhow. I hate Mondays. But we can't just move them to the end of the week. Even if we could, it would just make Tuesdays suck.
Besides, permanent DST was already tried once in the mid-1970s, and it took all of ten months for people to realize how stupid it was. Let's throw this idea in the trash bin where it belongs.
Period.
---
Plasticosis
New Disease Caused by Plastics Discovered in Seabirds
The first disease caused solely by plastic has been discovered in seabirds. 
Plasticosis (which sounds like something I would make up if trying to name a disease caused by plastic) was discovered in flesh-footed shearwaters. Specifically, the disease is a scarring of the birds' digestive tracts from the ingestion of plastic. 
While the discovery was limited to birds from Australia's Lord Howe Island, it's easy to see how this could be an issue everywhere. There's no shortage of plastic in our oceans, and in many areas, it's getting worse by the day.
Here are a few images of the damage we are causing (and no, these are not AI-generated.)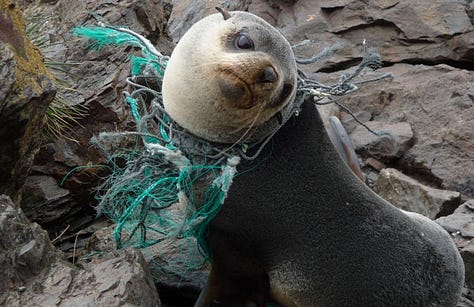 ---
Tech and Ocean Cleanup
Ocean Plastic: How Tech is Being Used to Clean Up Waste Problem
Now for some good news regarding all that trash in the ocean. 
Boyan Slat founded The Ocean Cleanup and has been working for more than ten years on cleaning up our oceans.
Using a u-shaped barrier, similar to a net, along with AI-powered cameras that help them target the areas with the most plastic, they have removed 440,000 lbs of plastic from the ocean in the past ten years. Unfortunately, that is only .2% of the world's largest plastic patch, the Great Pacific Garbage Patch. 
The good news is they are working on a new system that will be three times the size of the current one, and they have hopes of rolling out ten of these larger systems in the near future. 
They also currently use their technology to intercept plastic in 11 rivers worldwide. Boyan estimates that 1,000 of the world's rivers are the source of 80% of ocean plastic pollution. 
So heading off the problem there can prevent the plastic from ever ending up in the ocean, saving time and money on clean up.
If you haven't checked out The Ocean Cleanup's work, click the links above or check out their website here. 
---
Best of Twitter
This is a clip of Carl Sagan attempting to speak a little common sense into Congress in 1985. 
We've had the facts for a long time. If only those with the power to do something had listened.
---
I hope you all have a great week!
As always, I would love to hear from you.
If you read something here that resonates with you, leave a comment.

If you would like to discuss something further, shoot me an email.

If there was something you absolutely hated, @ me on Twitter.
And if there is something you think I should be writing about, please let me know.
If you want to see more of my work, visit chasinganswers.co.
Thank you for reading, and if you liked what you read, please share.
randy